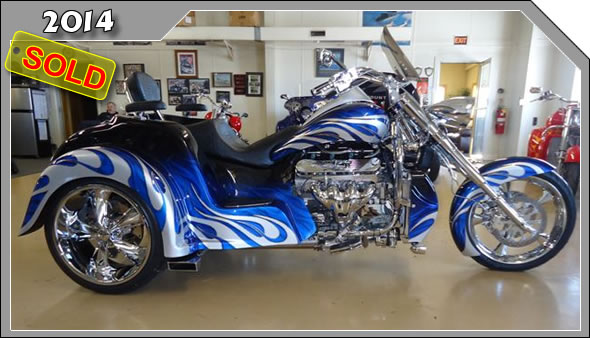 2014 Boss Hoss Coupe Trike
New 2014 Boss Hoss Mountain Custom Coupe Trike

All aluminum, GM LS3 engine
485 Horsepower
Factory hot cam and ECU upgrade
Four speed electronic shift automatic transmission
Plus reverse and park!
BRAND NEW!
Options
Factory cruise control
Long travel air ride suspension
Muth mirrors with LED's in mirror face
MBHC steel custom front fender
Kewlmetal front end kit 45 degree rake
Kewlmetal risers and cuffs
Chrome crash bars
Chrome lower air dam
Chrome dipstick knob
Chrome footpeg sliders
Chrome passenger floorboards
Chrome billet MBHC valve covers
Chrome lower frame inserts
High Rollers custom seating, crock and ostrich combo!!
Chrome front frame section
Polished stainless rear rotor covers
Foose 20" chrome rear wheels
Chrome 21" front wheel
Chrome matching rotors
Chrome side exhaust
Headwinds Rocket headlight
Custom rear radiator kit polished
Third rear brake light
LED Radiance turn signals
HID headlight
Extended signal bezels
Tinted Windvest windshield
LED driving lights
Paint
Jet black heavy metallic base with astral silver and blue fade flames. Burnish outline on flames, OUTSTANDING!!
Custom paint and graphics by Kenny Dean.
Absolutely Stunning!!! Must See!!!
$89,900.00