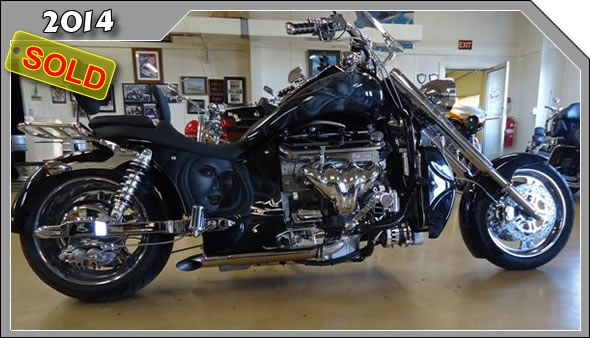 2014 Boss Hoss MBHC Custom
New 2014 Boss Hoss Mountain Custom

LS3 GM All Aluminum Motor
485 Horsepower !!
Factory Hot Cam & ECU Update
2 Speed Auto Transmission Plus Reverse & Park
Mountain Options
Chrome 18" Front & Rear Wheels
Chrome Matching Rear Drive Pulley
Chrome Rear Drive Hub
300 Avon Rear Tire Kit
Kewlmetal Pro Street 45 Degree Raked Front End
Touring Seat w/ Driver Backrest
Sissybar & Contour Pad
Luggage Rack
Windvest Windshield
Muth Signal Mirrors w/ LED Brake Lights
Electronic Cruise Control
MBHC Side Mount Lisc Plate Assy
MBHC Custom Steel Front Fender
Lots Of Extras, Outstanding Bike !!!!
Paint
Jet Black base with Killer Custom Airbrush Murals by Kenny Dean.
Show Quality, Super Sharp !!
$SOLD$