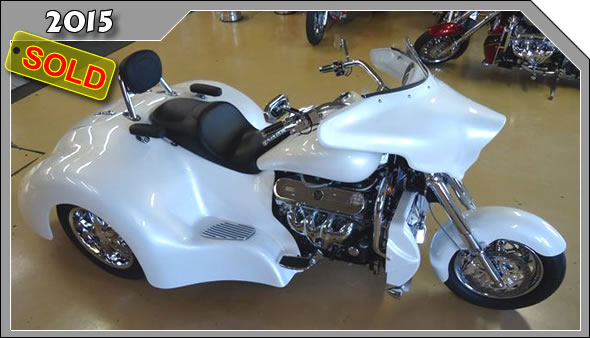 2015 Boss Hoss Gangsta Trike
New 2015 Boss Hoss Gangsta Trike

LS 300 GM Motor
300 Horsepower
GM Automatic Transmission with Reverse
Four Speed Electronic Shift
Touring Seat with Drivers Backrest
Muth Signal Mirrors with L.E.D.'s in Mirror Face
Boss Hoss Fairing
Electronic Cruise Control
Stereo Radio and Speakers
Pullback Risers
Mountain Chrome Package

Chrome Wheels, Front and Rear
Chrome Crash Bars
Chrome Lower Air Dam with Lazer Lights
Chrome Passenger Footboards
Chrome Fan
Chrome Starter and Alternator

Cadillac Diamond Pearl White Paint
Brand New, Ready to Go!!!
$49,900.00