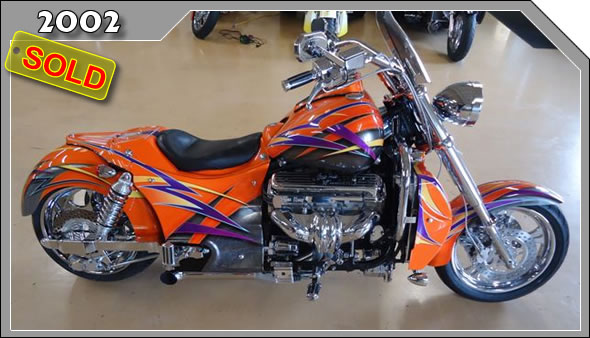 2002 Boss Hoss MBHC Custom
USED 2002 Boss Hoss Mountain Custom
350 cubic inch
385 Horsepower
Two speed automatic with reverse
3,325 Miles!
Options
Chrome 18" front wheel with matching chrome rotors
Chrome 18" rear wheel with Avon 300 tire
Chrome matching design rear drive pulley
Chrome rear drive hub
$7500.00 wheel package!!
Muth signal mirrors with LEDs in mirror face
Chrome crash bars
Chrome upper and lower airdams
Lazer driving lights
MBHC big tube headers / $2000.00
MBHC sidemount license plate assembly
Lots of updates and extra's!!
Paint
Custom paint and graphics by Chris Cruz.
Pearl tangerine base with multi colored graphics.
Good looking bike!!
No bikes like this available in this price range. Hurry!!!
$29,900.00