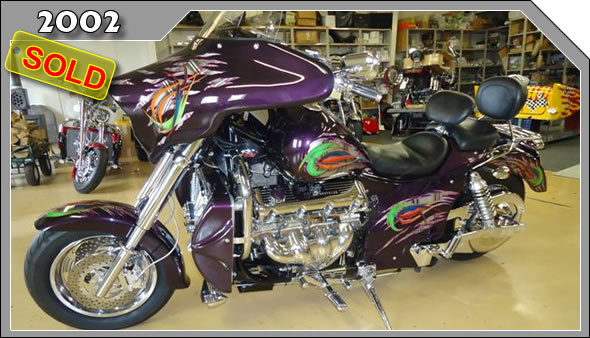 2002 Boss Hoss 502
USED 2002 Boss Hoss 502
502 cubic inch
502 horsepower
Two speed auto w/ reverse & neutral
21,263 miles
Options
Boss Hoss Fairing Kit

Stereo FM CD w/ Speakers
Matching Custom Paint

Chrome crash bars
Chrome bb spark plug wire holders
Chrome footpeg sliders
Chrome upper & lower air dams
Chrome front & rear wheels
Garmin gps nav
Sissy bar & mustang pad
Chrome luggage rack
Landmark tank saver fuel caps
Lazer driving lights
Many more options
Nice clean local bike!
Paint
Dark wine berry base w/ multi-color graphics. Sharp great looking 502 bike!!
Local bike, always Mountain serviced, new front tire, completely serviced and ready to ride.
No 502 bikes this nice available at this price!!
$29,900.00