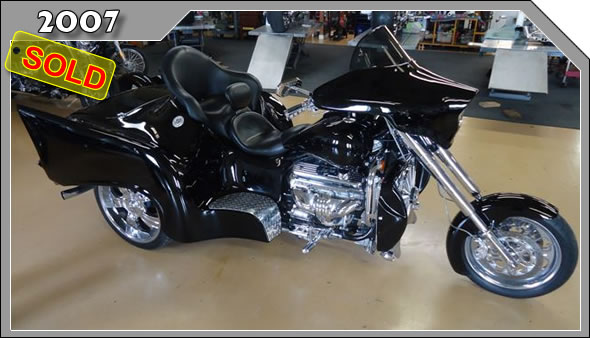 2007 Boss Hoss 57' Trike
USED 2007 Boss Hoss 57 Trike
350 Cubic Inch
455 Horsepower!
Mountain upgrade 455 dyno horsepower!
Chrome intake
Polished heads
Solid roller lifters and roller rockers
Sounds awesome! $7500.00 Upgrade!
Three speed automatic Transmission with reverse and park
Mountain Options
Kewlmetal raked front end
Mountain stretched fuel tank
Fairing kit with stereo
Muth signal mirrors
Big block radiator
Chrome 18" front wheel
Chrome 20" rear wheels
Chrome Crash Bars
Chrome Lower Air Dam
Lazer driving lights
Loaded and Sharp!
Paint
Jet black paint by Kenny Dean.
Looks like new! 9,000 miles, 1 Owner!
$39,900.00