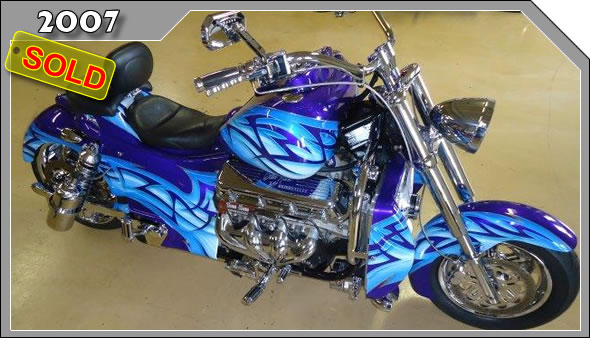 2007 Boss Hoss MBHC Custom
USED 2007 Boss Hoss Mountain Custom
502 ci.
502 Horsepower
2 speed automatic trans with reverse
8,800 miles!
Like New!
Mountain Options
Muth signal mirrors with led's in the mirror face
Chrome front wheel
Chrome wide rear wheel, 300 Avon
Chrome matching rear drive pulley
Chrome crash bars
Chrome footpeg sliders
Chrome lower air dam
Lazer driving lights
Side mount tag bracket
Paint
Multi color blue and purple custom paint by Kenny Dean.
Perfect condition and sharp!
We sold this big block bike new and have serviced since new!
SUPER PREMIUM 502 BIKE!
$OLD