Below are some pictures of bikes that we are proud to say were
born at Mountain Boss Hoss. More will be added as time goes on...Stop Back!
---
---
---

Customers New Billboard Ad
---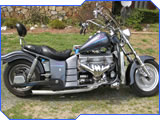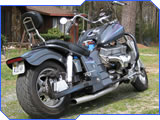 ---
1999 Boss Hoss painted like a tank that was done in
honor of Josh Fraizer who was killed in Iraq. 


---
---
---
We just updated this 2001 606 Donovan bike with a blower scoop.
---
---
---
---
Daytona Bike Week 2003
---