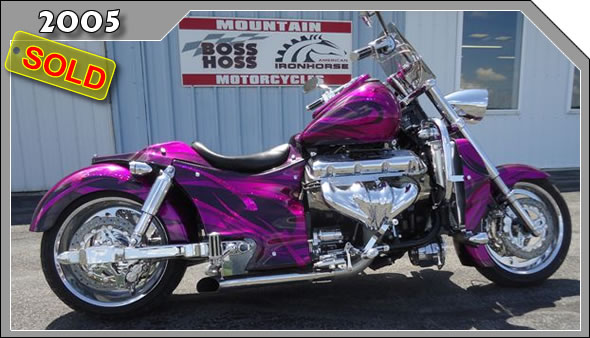 2005 Boss Hoss 502
USED 2005 Boss Hoss 502 MOUNTAIN CUSTOM
502 cubic inch
502 horsepower
Two speed auto with reverse
15,000 miles
Options
Muth signal mirrors
Chrome Paint Saver fuel caps
Chrome crash bars
Chrome footpeg sliders
Chrome upper and lower air dams
Chrome 18" front and rear wheels
Chrome rear drive hub
Chrome matching design rear pulley and brake rotors
Chrome Rocket headlight
Chrome MBHC side mount license plate assembly
New tires
Completely Mountain serviced
We sold new
Many more options and extras!
Paint
Purple and white prizmatique graphics glistens in the sunlight.
Custom paint and design by Kenny Dean.
Real Sharp Bike! Super Clean!
$35,900.00