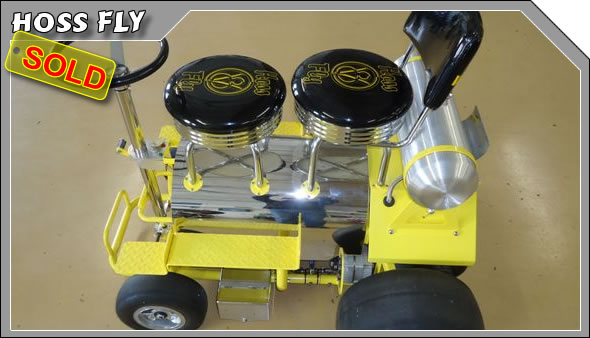 HOSS FLY
Garrett Turbine Powered Hoss Fly
Garrett Turbine Powered Hoss Fly Boss Hoss manufactured approx 20 of these Garrett Turbine, 2 seat units about 5 years ago. Same hydrostatic transmission and drive system as gas units. Burns Jet A or Kerosene. Sounds just like a turbine powered airplane or helicopter starting. Spools up and runs a constant RPM and you control your forward or reverse speed with the hrdro pedal. Very smooth and predictable. This is the King of Hoss Fly's. Dealers paid $40K for these units new. The motor cost got so high that they quit building them. I sold at least 6 of these units.

This particular unit I sold new to a customer from NJ. Says he never ran 5 tanks of fuel thru it!! Looks new, runs perfect. This is the ultimate Hoss Fly & has 2 seats !!

Very unique opportunity, None of these around for sale !!
$25,000.00