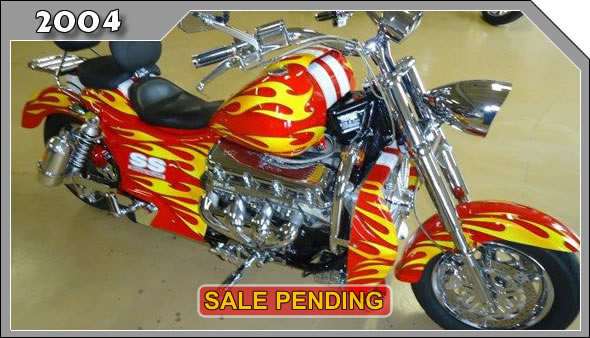 2004 Boss Hoss MBHC Custom
USED 2004 Boss Hoss Mountain Custom
502 ci.
502 Horsepower
2 speed automatic trans with reverse
9,200 miles!
Like New!
Mountain Options
Muth signal mirrors with led's in the mirror face
Chrome front and rear wheels
Chrome crash bars
Chrome footpeg sliders
Chrome lower air dam
Chrome side mount tag assembly
Headwinds Rocket headlight
Lazer driving lights
MBHC dual gaugemount
Big Autometer gauges
MBHC Ram Air fuel tank
Loaded 502 Bike, Needs Nothing!
Paint
Gaurds red base with yellow flames and SS style graphics and stripes.
All paint and bodywork in "As New" condition. Show Ready!
We Sold and Serviced Since New!
$34,900.00